nydailynews.com by David Knowles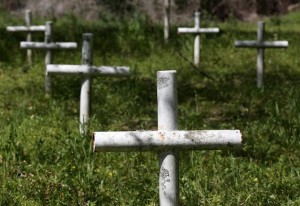 The children in unmarked graves at a notorious Florida reform school will finally be allowed to tell their stories.
After years of pressure from families, Florida Gov. Rick Scott and the Florida Cabinet voted to allow researchers to exhume the human remains of dozens of children who died while attending the Arthur G. Dozier School for Boys.
Researchers from the University of South Florida have identified more than 100 unmarked grave sites on the property of the state-owned school, which was closed in 2011 after decades of allegations that it routinely tortured boys who were sent there, WFLA News reported.
"A lot of us are seeking closure," John Bonner, a Dozier resident from 1967 to 1969, told the Tampa Tribune. "A lot of people were abused there. A lot of people's rights were trampled on. I was strapped with the belt so many times, one time just for looking at a supervisor the wrong way."
Until Tuesday's vote, Florida had blocked University of South Florida anthropologist Dr. Erin Kimmerle from exhuming the graves at the school.
In March, State Attorney General Pam Bondi had filed a petition to try to convince Scott to allow the researchers to begin identifying the bodies using DNA testing.
"The deaths that occurred at Dozier School for Boys in Marianna are cloaked in mystery, and the surviving family members deserve a thorough examination of the site," Bondi told WFLA.
Many boys who attended Dozier, which was approximately 60 miles west of Tallahassee, simply disappeared, leaving their families without answers about how, or whether, they were killed.
"This decision puts us a step closer to finishing the investigation," U.S. Sen. Bill Nelson (D-Fla.) said in response to Tuesday's action by the governor and the cabinet. "Nothing can bring these boys back, but I'm hopeful that their families will now get the closure they deserve."
So far, USF researchers have been able to confirm the deaths of 96 children who were sent to the Dozier School between 1914 and 1973.