rt.com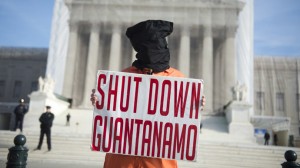 President Barack Obama continues to call for closing the Guantanamo Bay military prison, but it's not just supposed human rights violating inching him along. Keeping the detention center open will cost the government $5.2 billion by the end of next year.
More than 160 men remain detained at Gitmo, many serving indefinite stints without ever being brought to trial. Keeping that prison open comes at a cost that exceeds just human rights concerns, though, according to a report presented to Congress last week by the Department of Defense's Office of the Comptroller.
The analysis, first provided to Secretary of Defense Chuck Hagel and made public last week, concluded that the cost of keeping the Pentagon open will amount to $5.242 billion by the end of 2014.
Speaking on Capitol Hill last week, Sen. Dick Durbin said the cost of keeping Gitmo open for just 2013 will top $454 million, amounting to roughly $2.7 million for each one of the detainees held on the United States military base on the Cuban coast.
By comparison, Durbin said housing any of those detainees at a federal, high-security prison outside of the base would run no more than $72,000 a year.
"Our national security and military leaders have concluded that the risk of keeping Guantanamo open far outweighs the risk of closing it because the facility continues to harm our alliances and serve as a recruitment tool for terrorist," the senator said.
According to the Pentagon report, the $454 million price-tag includes $14.1 million to fund prisoner review boards that will assess the cases of 71 detainees at the base, as well as $40 million for a planned fiber-opic cable between the base and mainland America, nearly $60 million for contractors and $116 million to operate the Gitmo military court.
Meanwhile, President Obama says Congress must act appropriately to expedite his plan to pull the plug on the facility.
At the same hearing Sen. Durbin spoke of closing down Guantanamo Bay last week, Sen. Dianne Feinstein, chairwoman of the Senate Intelligence Committee, called operating the prison "a massive waste of money."
"Ten years with no hope, no trial [and] no charge," for those inmates, Sen. Feinstein said.

The chairwoman also slammed the Obama administration for permitting prison officials to force-feed detainees, saying "I believe it violates international norms and medical ethics, and at Guantanamo it happens day after day."
Now in addition to human rights error and the ongoing urging of President Obama, the escalating cost of keeping dozens of men locked up indefinitely could finally prompt that sort of response, especially during an era of sequestering that has stripped the Pentagon of much of its funding this year already.
So far, though, hardline Republicans have insisted that closing down Gitmo would come at a cost to national security that far exceeds the continuously increasing price-tag.
"These detainees are bad, bad people. They hate America. They've sworn to kill Americans and in fact they've done so on the battlefield. And that's why when they were captured they were sent to Guantanamo. And that's where they should stay," said Rep. Bill Young (R-Florida) at the July 24 hearing on the Hill.