huffingtonpost.com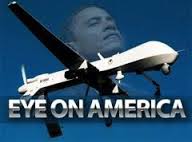 Unmanned aerial vehicles (UAVs), commonly known as drones, may be coming to a police department near you.
The Federal Aviation Administration (FAA) has released an updated drone authorization list as a result of a Freedom of Information Act request made by the Electronic Frontier Foundation (EFF), a non-profit organization for digital civil liberties.
The new list reveals 81 entities that have applied for permission to fly drones in U.S. airspace, including a number of government agencies and universities. Seventeen police departments and sheriff's offices across the country have also filed, among them are stations in Little Rock, Ark., Gadsden, Ala., Miami, Fla., Ogden, Utah, and Seattle, Wash.
Universities that can be found on the list include California State University, Cornell University, Kansas State University and Penn State University, among others. In addition, the Indian Tribal office in California, has made a request to be allowed to fly UAVs.
Click here to see the complete drone authorization list.
In April 2012, the FAA released a shorter list of entities that had applied for permission to fly drones in the U.S. Although some of those requests were listed as disapproved or expired, the new list does not include either distinction.
An additional 20 U.S. entities that have requested drone authorization have been added to the previous list. Newly listed applicants filed their requests between July 2011 and October 2012, Lynch said, adding that the FAA did not provide the statuses of the requests on the latest document, even though EFF had requested that information.
While universities are likely to fly drones for academic and research purposes, some police departments have said they want to use drones for law enforcement, including for surveillance and crowd control. A sheriff's office in Texas even went so far as to say it might be a good idea to equip its $300,000 Shadowhawk drone with Tasers, tear gas and rubber bullets, The Daily reported in March.
A bill in Florida aims to ban police use of drones throughout the state, with a few exceptions for cases of terrorism, imminent danger or for search warrants, local media outlet WKMG in Orlando, Fla., reported Wednesday. And on Tuesday, a bill that seeks to ban state and local agencies from using drones passed the Virginia General Assembly, Politico reports. However, some have noted that bills like Virginia's are little more than symbolic gestures, since ultimately it's FAA that controls the airspace over the United States.
The new drone authorization list comes in the wake of a 16-page Department of Justice memo obtained by NBC News that revealed senior U.S. government officials (not just President Obama) have the authority to kill American citizens suspected of having high-level position within Al Qaeda or an "associated force," even without "clear evidence" that they're planning an attack "in the immediate future."